Endre Sik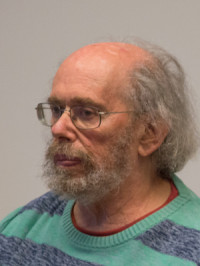 Download CV
Research Professor (MTA TK SZI)
Academic Title: Doctor of HAS, DSc.
Email: sik.endre@tk.hu
Phone: 36 1 2246700 / 5430
Building: B (Floor, room: 1.37.)
Research Interests
Economic sociology, migration, xenophobia, methodology, border studies
Selected Publications
Reciprocal Exchange of Labour: the Hungarian Case. In: On Work 1988 Ed.: Ray Pahl Basil Blackwell, Oxford-N.Y. pp. 527-547,
From the Multicoloured to the Black-and-White Economy: the Hungarian Second Economy and the Transformation. (1994) Journal of Urban and Regional Research. Ed. Roberts, Bryan, Vol 18. pp. 46-70,
Network capital in Capitalist, Communist and Post-Communist Societies. (1994) International Contributions to Labour Studies, Vol. 4., pp. 73-93.
The Development of Open-air Markets in East-Central Europe (1999) (with Claire Wallace). International Journal of Urban and Regional Research, December, Vol. 23, No. 4, pp. 697-714.
Diaspora: Tentative Observations and Applicability in Hungary. (2000) In: New Diasporas in Hungary, Russia and Ukraine. Eds.: Ilona Kiss and Catherine McGovern, Open Society/COLPI, Budapest, pp. 20-41.
The Bad, the Worse, and the Worst: Guesstimating the Level of Corruption. (2002) In: Political Corruption in Transition, eds.: Stephen Kotkin and András Sajó, CEU Press, Budapest-New York,., pp. 91-114. http://www.academia.edu/5897224/The_Bad_the_Worse_and_the_Worst_Guesstimating_the_Level_of_Corruption
Network dependent path dependency (2010) Corvinus Journal of Sociology and Social Policy Vol 1, No 1. pp. 77 – 102.
Quasi-diaspora and Cross-border Diaspora in the Hungarian-Slovak-Ukrainian Triborder Region (with Blanka Szeitl) (2015) Review of Sociology 25(4):107-125 http://www.szociologia.hu/dynamic/107_125_oldal.pdf
A Hungarian Trademark (a "Hungarikum"): the Moral Panic Button (2017) (with Melani Barlai) in: The Migrant Crisis European Perspectives and National Discourses eds.: Melani Barlai, Birte Fachnrich, Christine Griessler, Markus Rhomberg, LIT, pp. 147-168. https://www.academia.edu/33599524/A_Hungarian_Trademark_a_Hungarikum_the_Moral_Panic_Button
Research Projects
CEASEVAL, EU Horizon 2020,2017 -
STYLE, EU 7th Framework, 2014 - 2016
Concordia Discourse, EU 7th Framework, 2010 - 2012
Euborderegions, EU 7th Framework, 2010 - 2015
Workcare Synergy, EU 7th Framework project, 2010 - 2012